Sweet Smell of Success
Published by
Renae Bluitt
on Tuesday, February 16, 2010 at 2:20 pm.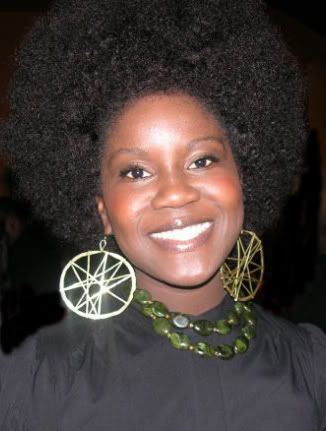 Karen Tappin-Saunderson: Founder, Karen's Body Beautiful
Lavendar vanilla, pomegranate guava, vanilla latte, luscious pear, creamy coco mango – a sensory experience like no other awaits you at Karen's Body Beautiful, the go-to boutique for all things fabulously natural. Karen's Body Beautiful boasts an extensive offering of natural, luxuriant, emollient-rich body products created for hair, body, face and bath time.  Comprised of ingredients such as Shea butter, Jojoba oil, aloe butter, olive oil and apricot kernel oil, the increasingly-popular product line offers the very best in all-over body care for women, men and children.
Karen Tappin-Saunderson, the brand's co-founder, is a mother, wife, entrepreneur, sister, daughter, and friend who realizes the value of being the captain of her own ship:
"Entrepreneurship provides me with the flexibility to live life on my terms. I absolutely love being in control of my own income, time, and space!"
Photo Credit: Berman Fenelus
Launched in 2004, Karen's Body Beautiful is nestled in the Clinton Hill section of Brooklyn, New York and is available via its online store which garners an impressive bevy of domestic and international visitors. Karen, alongside her husband and business partner, Damani Saunderson, have grown Karen's Body Beautiful from a home-based business to being housed in an upscale retail location in less than six years.
Poised to take the natural hair care industry by storm, Karen's Body Beautiful is currently celebrating its six-year anniversary. To mark the occasion, the eponymous brand will undergo an image overhaul, complete with a sexier, more contemporary look. The ambitious makeover encompasses every aspect of the line: sleek new packaging, revamped product names, an updated Web site (www.karensbodybeautiful.com) and the launch of its highly-anticipated day spa.
With a contagious passion for all things naturally beautiful, Karen's impressive work ethic continues to pay off in bottom line profits and strengthened brand equity. To learn more about Karen's Body Beautiful please visit:
Website: www.karensbodybeautiful.com
Facebook: http://www.facebook.com/pages/Brooklyn-NY/Karens-Body-Beautiful/173856026169?ref=ts
Twitter: twitter.com/karensbeautiful